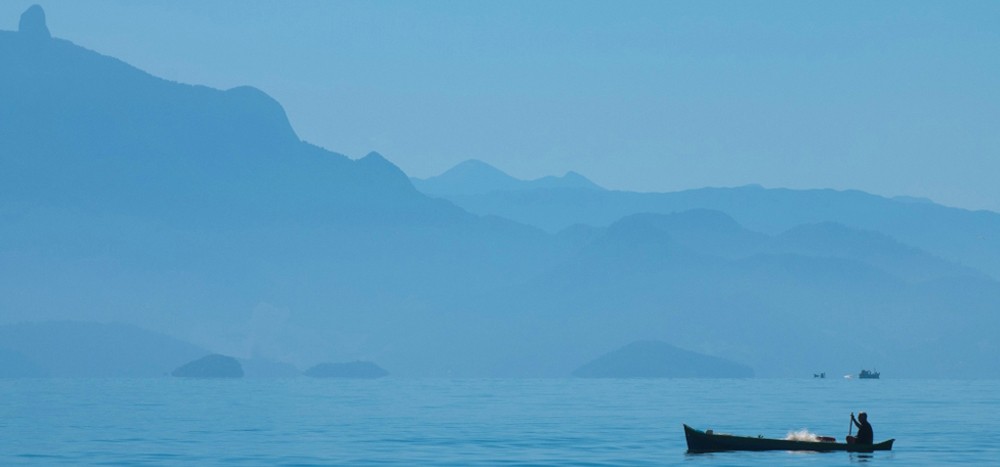 Nature in Paraty
Paraty has 80% of its area preserved by environmental laws, which make the region a special place, with great quality and variety of natural resources such as beaches, islands, rivers, waterfalls, trails, among others. Protected by the steep hills of the Serra do Mar, the Atlantic Forest remained intact and is still possible to find areas with ancient woodland.
It has 6 Environment Conservation Units, totaling more than 600 square kilometers – the equivalent of two thirds of the territory of Paraty. Some are owned by the Government, such as the Parks and Ecological Reserves, with visiting control for tourist purposes, and in some limited cases only for educational or research purposes. The APA – Environmental Protected Areas –, are private properties which allow buildings and greater flows of tourists. The Environment Conservation Units are:
Serra da Bocaina National Park (Parque Nacional Da Serra Da Bocaina)
It is situated on a large area of Serra do Mar with 110,000 hectares (with over 40% of the area belonging to Paraty), and covers the cities of Angra dos Reis, São José do Barreiro and Paraty, to the border with Ubatuba, next to the State Park of Serra do Mar. Created by Federal Decree 68,172 / 71 and amended by Decree 70,694 / 72, belongs to the Federal Government, and it is forbidden to build or deforest there.
Juatinga Ecological Reserve (Reserva Ecológica Da Juatinga)
A reserve of 10,000 hectares covering the entire Ponta Negra, Ponta da Juatinga and Saco do Mamanguá, within the Cairuçu APA. In this place it is possible to find the last stretch of primary forest in Paraty, with huge trees and a big amount of Palmito Jussara – an endangered species of tree. It also preserves some of the most beautiful beaches in Paraty, such as Antigos, Antiguinhos, Sono, Martins de Sá, Ponta Negra, Calhaus and Grande da Cajaíba.
Conservation Area of Cairuçu (Área De Proteção Ambiental Do Cairuçu)
This APA is formed by private properties that go from the Matthew Nunes River, in the north, and ends in the south, in Trindade, on the border with the state of São Paulo. It covers the Juatinga Ecological Reserve, the Araponga and Paraty-Mirim indigenous reserves and, and the Paraty-Mirim Ecological Park, in addition to other 63 islands in the sea. It was established by the Federal Decree 89,242 / 83, in order to rationalize land use, protecting nature and preserving local culture.
Paraty-Mirim State Park (Parque Estadual De Paraty-Mirim)
Situated within the Cairuçu APA, the former Recreation Area in Paraty-Mirim was transformed into an Ecological Park to avoid the heavy tourist flow, avoiding major impacts to the ecosystem. In this park you can find the Paraty-Mirim beach, river and indigenous reserve, in addition to the Church of Our Lady of Conception and ruins of the colonial buildings, both listed by IPHAN.
Conservation Area of Paraty Bay (Área De Proteção Ambiental Da Baía De Paraty)
It was established by a municipal law, in order to protect the Paraty Bay from overfishing, especially from trawling (fishing technique in which two boats drag a large network), regulating when and where this type of fishing is allowed. This is where boats are moored, including tourist boats.
Tamoios Ecological Station  (Estação Ecológica De Tamoios)
Located between the cities of Paraty and Angra dos Reis – a total area of 9,361 hectares – this Conservation Unit was established in 1990 by the Federal Decree 98,864, in return for building the nuclear plants Angra 1, 2 and 3. Its use is restricted only for conducting research and monitoring of marine environments, with no fishing, diving, disembarking, building or anchoring permitted. The area includes 29 islands.
Community Based Tourism
Guardian city of the civilization footprints in Brazil, Paraty has preserved in its territory the cultural heritage, humanism and ecology since its discovery. In our territory, and visitors have the opportunity to experience what the early travelers have experienced: walk through the Atlantic Forest; learn about the colonial architecture; visit the Indigenous, Quilombo and Caiçara Communities, that due to their knowledge, traditions and sustainability they still reside here; and, taste the spectacular local cuisine.
Paraty tries to share its wealth by investing in Sustainable Community Based Tourism, enhancing the stay of native people in their territory and their way of life.
Crossing the entire territory you can find different ethnic groups which show in their way of living the roots of the Brazilian culture. From the coast to the interior of the city, among ancient trees, mangroves, waterfalls and rivers, you can find the remaining Quilombola, Guarani and Caiçara groups, as well as some family farming communities, ready to welcome visitors with cultural and educational projects.
The Green Passport Campaign
The Green Passport Campaign (Passaporte Verde) is part of a global initiative coordinated by UNEP – United Nations Environment Programme, entitled Global Platform for Sustainable Tourism. It was implemented in 2010 in partnership with the Ministries of Tourism and Environment, and officially launched in 2012 in the event Rio + 20. Paraty was chosen as the pilot destination for the Global Campaign, where measures to promote it were taken and projects were created to structure the destination, such as:
Support the construction of the Local Agenda 21;
Environmental Education Program in schools;
Strengthening of community-based ecotourism;
Training in sustainable management, professional qualification in hospitality and tourism, and artisan producers.
This Campaign gives the opportunity to put into practice a social, environmental and tourist calendar, creating conditions to change fate and encourage conscious consumption in tourism, consequently contributing to the preservation of the environment, improving the quality of life of all inhabitants by raising awareness of tourists and encourage them to have habits of conscious consumption. In Paraty, several positive results were achieved, such as:
Regulation of the local Agenda 21 Act (Law 1.722 / 2009);
Development of a sustainable food culture;
Carbon Offset, in contrast to the tourist activity in the destination;
Gathering and recycling of cooking oil;
Campinho da Independência stimulates the Community Based Tourism experience in the Quilombola community.
Responsible Tourism
While visiting the natural areas in Paraty, tourists should have a responsible and ecological attitude with the environment and its communities. While visiting the ecosystem in its natural state and the wildlife, as well as the traditional populations, the environmental concern and good manners should be taken seriously. Come visit and enjoy nature in a way that new visitors can continue enjoying the clean and healthy environment.